Standard Features
Mast: 36 ft. high telescoping mast with 11 ft. maximum layback
Capacity: 11,000 lbs. single line, 33,000 lbs. with 3 part line
Mainline speed: 140 feet per minute
Mainline cable: 5/8" X 150'
The mainline spool is driven by 2 heavy duty pinion gears with the pinion shafts direct coupled to 2 hydraulic motors.  Braking is accomplished with 2 Hunke automatic fail safe brakes.  The winch drum has a cable storage section with enough drum width to spool a 3 part line on a bare drum.
The tailout winch has a 2,500 lb. lifting capacity at 150 feet per minute and uses a fail-safe brake.  Tailout cable: 3/8" x 125 ft.
Line block: Blocks for reeving a 2 part or 3 part line
Hooks: 7 ton and 15 ton safety hooks
PTO for standard transmission (PTO is available for an automatic at additional cost)
Hydraulic pump: 3 stage gear pump
Hydraulic bypass valves are incorporated to protect from overloading
Rear hydraulic outriggers with holding valves
Holding valve on mast cylinders
Gray paint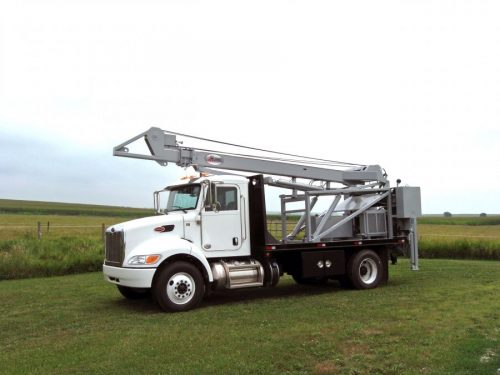 12T PUMP HOIST
Description:

The 12T pump hoist with 33,000 lbs. capacity and a 36 ft. high telescoping mast is designed to mount on a 2 ton or larger truck.  Fast and easy setup by means of a self supporting mast with four 3 1/2" bore hydraulic cylinders.  A guy cable is not needed in most situations.  The 12T design allows for easy access to hard-to-get-to pumps.  Total pump hoist weight is approximately 8,700 lbs.  A deck, headache rack and toolboxes add approximately 3,000 lbs.
The 12T was designed to mount on a deck.
The open frame design allows full use of deck area for cargo and work tools.
Controls are conveniently located at the left rear corner of the rig and are accessible from ground level.
The optional sandline winch is operated power-up and power-down.  It can be switched between a 7,000 lb. bare spool capacity at a maximum speed of 200 ft. per minute or 3,500 lb. capacity at 400 ft. per minute.  Cable capacity is 1,700' of 1/2" cable, 2,275' of 7/16" cable or 3,000' of 3/8" cable.
Return to products