Standard Features
Mast: 44 ft. high telescoping mast with 6 ft. maximum layback
Capacity: 14,000 lbs. single line, 72,000 lbs. with 6 part line
Mainline block speed: 50 feet per minute
Mainline cable: 3/4" X 280'
The tailout winch has a 3,000 lb. lifting capacity at 100 feet per minute and uses a fail-safe brake.  Tailout cable: 3/8"
Line block: 3 sheave block with bearings for 6 part line, hook is included
PTO for standard transmission
Hydraulic pump: Hydro-static pump
Oil cooler with hydraulically driven fan
Hydraulic bypass valves are incorporated to protect from overloading
Rear hydraulic outriggers with holding valves
Holding valve on mast cylinders
Gray paint on the mast and black paint on the deck and rig frame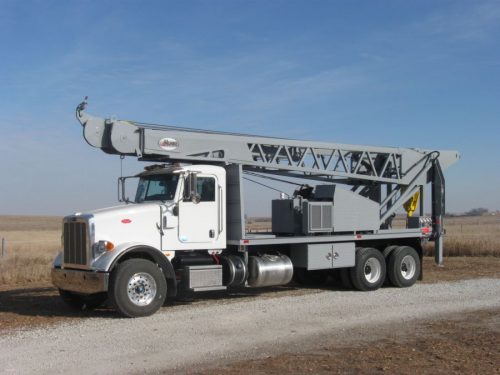 R36 PUMP HOIST
Description:

The R36 pump hoist. with 72,000 lbs. capacity and a 44 ft. high telescoping mast that is designed for fast and easy setup by means of a self supporting mast with two 5" bore hydraulic cylinders.  A guy cable is not needed in most situations.  Designed to allow for easy access to hard-to-get-to pumps.
Both the mainline and optional sandline use motors are hydrostatically driven with infinite variable speed control for exceptionally smooth operation.  These motors include an internal braking system that allow long life with little maintenance.
The optional sandline winch is operated power-up and power-down.  The sandline has a bare lifting capacity of 13,000 lbs. at 300 ft per minute.  Cable capacity is 3,000' of 9/16" cable.
Controls are conveniently located at the left rear corner of the unit in close proximity to the work area.
A Hunke deck is an essential part of the R36 pump hoist.  A minimum length of 20' is required.
The front portion of the deck remains open for cargo and work tools.
Return to products