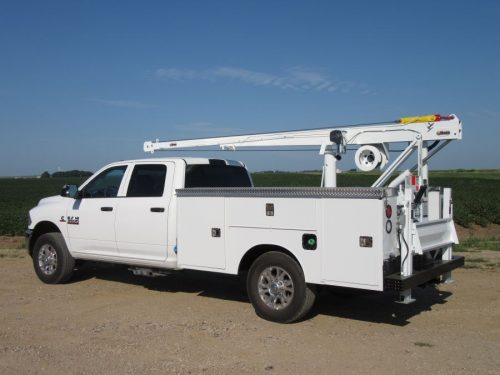 R2 Pump Hoist Options
Click below to view options.
Standard Features
Mast: 30 ft. high telescoping mast with 6 ft. layback
Capacity: 1,000 lbs. single line, 2,000 lbs. 2 part line
Winch: Piston motor
Line speed: 160 feet per minute
Cable: 3/8" x 100'
Line block: 2 part line block
Hook: 2 ton safety hook
PTO applications are preferred. Belt driven clutch pumps are acceptable as an option.
Independently controlled hydraulic outriggers
Gray or white paint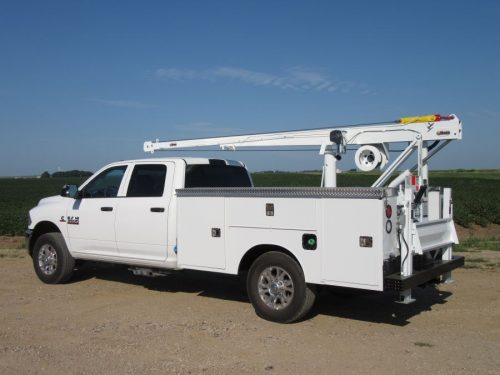 R2 PUMP HOIST
Description:

Just like the saying goes, "big things come in small packages".  The R2 pump hoist (2,000 lbs pulling capacity) was designed with economy and versatility in mind.  Weighing approximately 1,200 lbs, the pump hoist was designed to mount on a half-ton pick-up.
Fast and easy setup by means of a hydraulically operated self-supporting mast.
This pump hoist is ideal for submersibles and small pump service. The winch motor is a scaled down version of the motors Hunke MFG use on our R36, 50T & 60T.  The piston motor allows for infinate variable speed control for exceptionally smooth operation.  The motor has an internal braking system which allows for a long life with little maintenance.
Controls are conveniently located at the left rear of the rig so the operator has easy access to the controls and the well head.
An auxillary electric motor winch is used to extend the mast up and down.
A large portion of the truck bed remains open and available for storage and hauling of equipment.