USED RIGS
Hunke Manufacturing LLC has created this web based used rig list to aid our customers who wish to sell their used pump hoist(s). Hunke Manufacturing LLC has final determination of the product(s) to be listed on the "Used Rig" page. Please do not contact Hunke Manufacturing LLC about any of these used rigs that are posted on this page. If you would like to post a used rig on this page, please email us at
sales@hunkemfg.com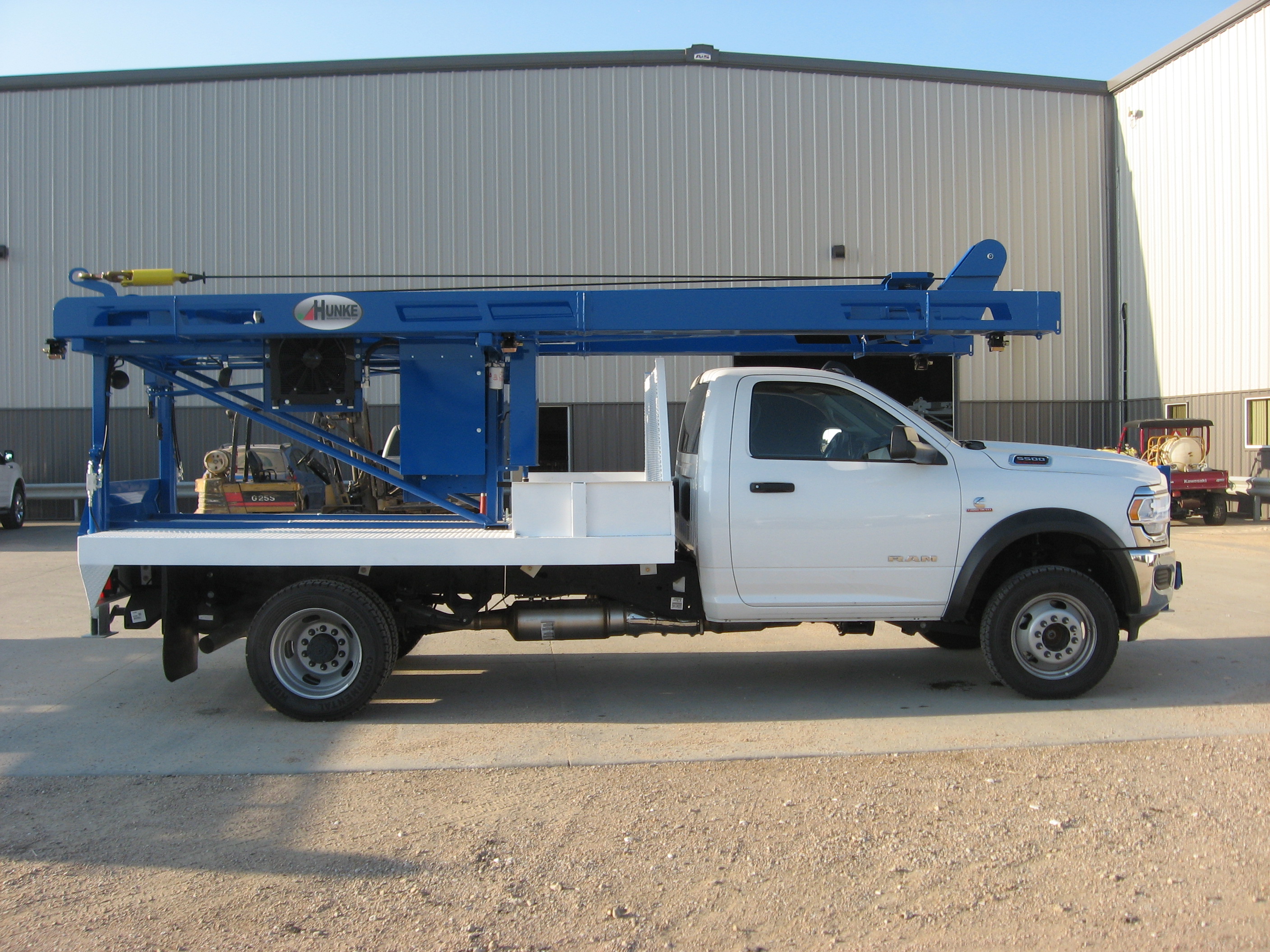 Product: Hunke 6T
2019 Hunke 6T, mounted on a 2018 Dodge 5500 automatic.  This unit is brand new, hasn't been over a well.  Options include 8' additional mast height, two pipe racks, oil cooler and front jack.  Does not have a sandline winch.  West Plains, MO
Company:  A to Z Pump Services (417) 505-9576
Product: Smeal R12
2002 Smeal R12. Mounted on a 2002 Ford F-750, 124,576 miles. Cat diesel engine. Option include sandline, cathead, oil cooler, power to rear, extra lay back, front jacks, 18' deck with toolboxes. Motivated seller!! Merced CA. Company: Shannon Pump (209) 723-3904
Product: Smeal 5T
Smeal 5T with Wireline draw works. 2000' of 1/4" stainless steel cable. Unit is set up for geophysical and logging testing. Golden, CO
 Company: RAS Inc. (303) 526-4432
Product: Smeal 12T
1991 Smeal 12T. Mounted on a 2004 Ford F-750. 256,385 miles. Cat diesel engine. Options include sandline, power to rear, cathead, breakout wrench, oil cooler, 15' deck with toolboxes. Motivated seller. Merced, CA
Company: Shannon Pump (209) 723-3904
Product: Smeal 6T
2000 Smeal 6T mounted on a 2000 Ford F550 7.3L power stroke engine 4x4 with 137,000 miles on it.  11' utility body with tip-top compartments.  Options include two pipe racks, long jacks, sandline with 1,000ft of cable and a mast with 4ft additional height.  Asking $30,000.  Contact Skyler with any more questions. 
Oakland MD
Company:  Wayne's Water N Wells (724)317-8196
Product: Smeal 5T
1999 Smeal 5T with sandline winch and two pipe racks. Chassis is a 1999 Ford F-450, 7.3 liter diesel with 5 speed manual transmission 4X4 with 227,000 miles. Air conditioning with manual roll-up windows and locks.
 Company: Cal-Tech Pump Well (707) 953-3098
Product: Semco S8000
This Semco S8000 pump hoist has 46' mast height and has a sandline with 1000' of cable. The hoist is mounted on a 1993 International S8100 with a L10E Cummins engine. Asking $27,000 OBO. Give Ted a call for more details. Broadus, MT.
Company: Pumps Inc. (406) 853-2675
Product: Smeal 10T
1980 Smeal 10T, mounted on a 1991 International. Sandline, 4' additional mast height, cathead. Needs a little TLC but the seller is motivated. Contact Eddie Schultz, northern Kansas
Company: Schultz (785) 418-1523
Product: Smeal 6T
This 2013 Smeal 6T is mounted on a 2013 Dodge 5500 4X4 with an automatic transmission with 230,000 miles. The 6T has 2ft of additional mast height, long racks, cathead, power to rear, wire spool brackets, two pipe racks (driver side is powered) and a rope sheave. The fiberglass utility body is a 11" tip-top Astoria body with welder compartment/front access on the drivers side. Asking $95,000 Willmar, MN
Company: Steffl Drilling & Pump (800) 288-9355
Product: Smeal 5T
1983 Smeal 5T has been refurbished and is mounted on a 2009 Ford F-350, Gas V-10 with 58,500 Miles on it. 9' Flatbed with toolboxes and one pipe rack. Montgomery, NY
Company: Reliable Pump & Well Services (845) 629-8301
Product: Smeal R12
2004 Smeal R12, mounted on a 2005 Ford F750 93,288 miles. Cat diesel engine. Options include sandline, front jacks, oil cooler, power to rear, extra lay back, 18' deck with toolboxes. Motivated seller! Merced CA
Company: Shannon Pump (209) 723-3904
Product: Smeal 5T
1970's Smeal 5T, mounted on a 2002 Ford Super Duty with utility body.  Options include a sandline, corded remote, pipe racks, tailgate and E-3 windmill extension.  Contact David with any questions.  Beeville, TX
Company:  Hatcher Water Well (361) 358-8550
Smeal 5T
1969 Smeal 5T, mounted on a 1997 Ford F350 with 178,000 miles.  5 speed manual transmission.  Options include sandline winch, front jack, cathead, two pipe racks and deck mounted toolboxes.  Asking $19,000.  Maple Plain, MN  Contact name: David
Company: Bergerson Caswell INC.  (952) 255-7000
Smeal 5T
1987 Smeal 5T, mounted on a 2006 Ford F550 diesel 4x4 with 159,000 miles.  The pump hoist and utility body have been reconditioned with new paint.  This 5T comes with a sandline winch, oil cooler, remote, work lights and two pipe racks  The utility body has a full through compartment.  Asking $40,000.  Hickory, NC
Contact name: Lynn Crouch 
Office: 828-256-9132
Cell: 828-308-6826
Smeal R2
1971 Smeal R2, mounted on a 2004 Chevy 2500 6 liter automatic with 62,000 miles on it.  It has a bed rack that could be used as a pipe rack and a tool box mounted behind the cab.  Truck has had regular upkeep and has zero surface rust.  Asking $25,000.
Contact name: Bob Bittner
Company:  Bittner Pump Service (920) 296-5025
Smeal 5T
1971 Smeal 5T.  The pump hoist and 9' utility body is mounted on a 2008 Ford F-350 4x4 Diesel with 102,000 miles.  Options include a sandline, two piperacks, corded remote and a plastic pipe reel.  Butler PA
Contact name: Keith
Company: Litzenberg Drilling (724) 894-2776
Smeal 6T
2013 Smeal 6T, the pump hoist and 9' utility body is mounted on a 2012 Dodge 5500 4x4 crew cab.  Options include a power up/power down sandline, long jacks, two low profile pipe racks, wire winder, remote, work lights, hydraulic powered welder and 4' additional mast height.   Wilbaux, MT
Contact name: Lee Knight
Company:  Knight Well (406) 796-8192
Smeal R12
1998 Smeal R12.  44' overall height with extra layback.  Options include front jacks, oil cooler, power to rear, breakout wrench and a sandline winch with 800' of cable.  Hoist is mounted on a Ford LT8511 with a Cat engine that was remanufactred in 2014.  Motivated seller asking $105,000.  Maple Plain, MN
Contact name:  David Henrich
Company: Bergerson Caswell, Inc. (952) 255-7000
Smeal 50T
2006 Smeal 50T.  Chassis is 1995 International.  65' overall height. Deck length is 22' with two 5' toolboxes mounted under the deck.  Other options are a Tong boom with cylinder lift, rollout tray, work lights and power to rear.  Movitated sellers. Bay City, TX
Contact name: Pam
Company:  G.E.L. Petroleum (832) 788-8831