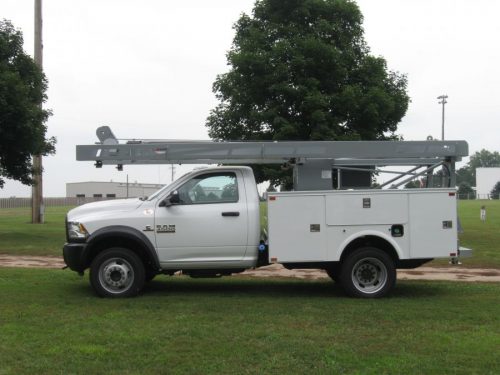 5T Pump Hoist Options
Click below to view options.
Standard Features
Mast: 36 ft. high telescoping mast with 11 ft. maximum layback
Capacity: 3,000 lbs. single line, 12,000 lbs. with 4 part line
Mainline speed: 120 feet per minute
Mainline cable: 7/16" X 220' with open spelter socket
The mainline spool is driven by a hydrostatic motor with an internal brake.
Line Block: Blocks for reeving a 2 part, 3 part or 4 part line
Hook: 5 ton safety hook
Hydraulic bypass valves are incorporated to protect from overloading
Rear hydraulic outriggers with holding valves
Holding valve on mast cylinders
Wireless Remote
Gray or white paint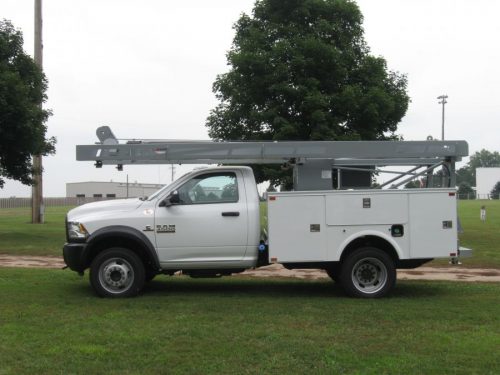 5T PUMP HOIST
Description:

The 12,000 lb. capacity 5T is the most popular pump hoist.  It is extremely versatile with capabilities ranging from small submersible pumps all the way up to line shaft turbines.  Fast and easy setup by means of a self supporting mast with two 3 1/2" bore hydraulic cylinders.  A guy cable is not needed in most situations.  Designed to allow for easy access to hard-to-get-to pumps and windmills.  Weight is approximately 2,800 lbs.
The 5T can be mounted on a 54" x 9' utility body or on a deck.
The open frame design allows for full use of deck area for cargo and other work tools.
Operating controls are conveniently located at the left rear corner of the rig and are accessible from ground level.
The optional sandline winch has a bare spool lifting capacity of 1,000 lbs. with a line speed of 325 ft. per minute.  It is power-up and power-down and also incorporates a heavy duty clutch for free-fall.  Braking is accomplished with a Hunke automatic fail-safe brake.  Spool cable capacity is 1,650 ft. of 1/4" cable, 1,050 ft. of 5/16" cable or 740 ft. of 3/8" cable.